Case Study: iTrakka
iTRAKKA specialise in RFID tracking and hydraulic hose management systems for the mining and other industries reliant on fluid power systems. Combining a range of pressure test rigs with a state of the art RFID tracking system built by Datanova, iTRAKKA offers a complete hydraulic hose management package for fluid power systems.
The Issue & Opportunity
iTRAKKA was developed in response to an increasing trend of injuries and fatalities from high pressure hydraulic system failure at mine sites across the world. Fluid power systems in mining trucks and vehicles consist of thousands of hydraulic hoses, and mining companies were employing a manual hose management system. Often hoses were being replaced ad hoc, long after recommended working life, and/or in batches. Not only are these management practices often unsafe, they are also cost intensive for the companies.
The iTRAKKA team identified an opportunity to utilise RFID technology with the hoses, to enable mining companies to monitor the condition and performance of each individual hose within a complete system. In 2007, Datanova were approached during the concept development stage of iTrakka, to design and develop the technology to bring the concept to fruition.
The Solution
The iTRAKKA hose management system that was developed consists of a range of hardware such as RFID tags, pressure testing rigs and PDA's, backed by the state of the art tracking system built be Datanova. It provides a complete hose management solution for industry that reduces downtime, increases productivity, eliminates paper work and improves safety.
Using data from the iTRAKKA web system and RFID tags within the hoses, the PDAs are used by the service technician to perform a series scheduled tasks. Once the tasks have been performed, the data are then automatically uploaded to iTRAKKA web application via wireless technology. The web system also provides extensive reporting options for management, to assist in asset management and resource allocation decisions.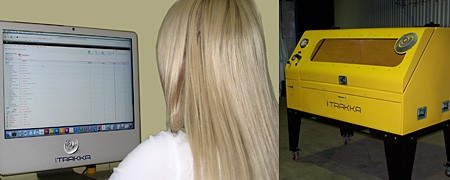 Testimonial
We approached Datanova in 2007 with the iTRAKKA concept with little idea of how to bring the concept to fruition from a technical perspective. Datanova were instrumental in the design and development of the iTRAKKA system, and both their technical expertise and big picture thinking have made the business what it is today. With a top rate service, Datanova always maintain a can-do attitude, and no task is too difficult. I wouldn't hesitate to recommend Datanova as an IT service provider.
Andrew Freeman
Managing Director