Introducing JobStream: The clever brain behind the clever JobActive Provider
Streamline and automate core back-office processes
JobStream is a suite of simple and easy to use, web-based applications for JobActive providers that streamline and automate core back-office processes, including DE expense claims and reimbursement activities related to jobseekers. The system integrates with DE's systems and accounting software, ensures compliance, and is completely flexible to suit specific organisational needs.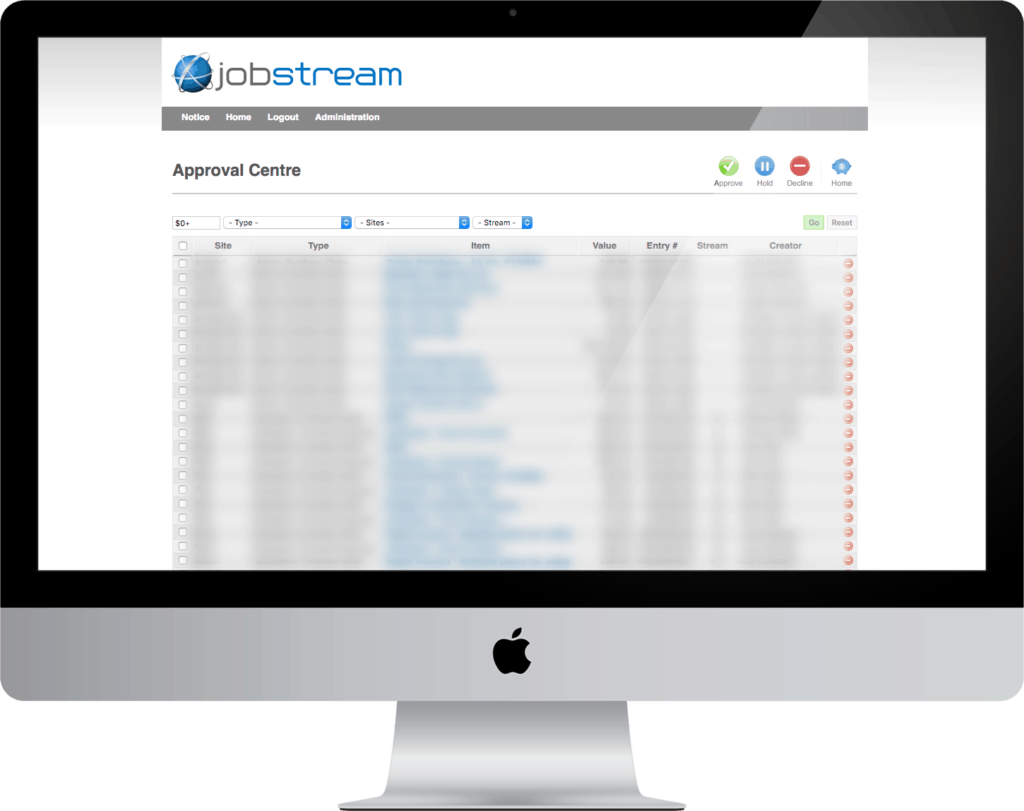 Fully Customisable Cloud Based Software
JobStream automates, streamlines and supports core processes common to all JobActive providers
JobStream has been developed as a customisable system, focused on the financial and administration aspects of a JobActive organisation that have the greatest direct impact on cost and cash flow. Built in partnership with a leading JobActive provider to ensure the system built to optimise performance, JobStream automates, streamlines and supports core processes common to all JobActive providers, including:
Employment Pathway Funds Purchasing System
Record - Upload - Analyse
This component handles all jobseeker purchases that are covered under the Employment Pathway Funds allocated to the jobseeker by the DE. The system manages applications for assistance and purchase orders based on the jobseekers stream, gains approval where necessary, and processes the claim for reimbursement from DE once completed. The system ensures appropriate authorisation and compliance at all levels and allows management to track expenditure through its reporting system. It maintains a database of preferred suppliers and automatically emails the purchase order to the supplier once approved. The system syncs with DE's system, ensuring that all jobseeker data is up to date, and processes the reimbursement claim directly within ESS.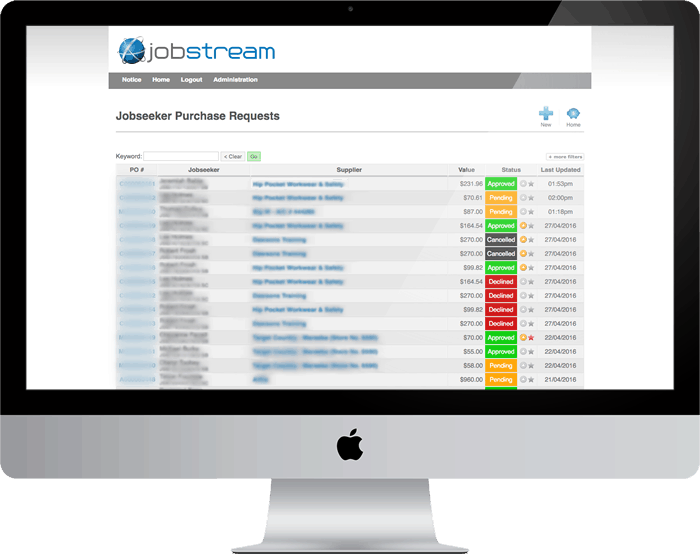 Offering many features to simplify your workload
Reverse Marketing
The Reverse Marketing component of the JobStream system tracks and records time spent engaging potential employers to for jobseekers, ensuring the JobActive provider can be reimbursed effectively.
Post Placement Support
The PPS system tracks and records communications with the jobseeker and their new employer after the jobseeker has been placed in a new position. This allows the JobActive provider to claim payments from DE for supporting the jobseeker over the requisite period. The system notifies users when to contact employee and employer, records communications and file notes, and reminds users when to submit the 13 week and 26 week claims to DE. Jobseeker and placement details are periodically retrieved from DE, thus, there is no need to manually enter any data other than updating the file when contact is made.
Internal Purchasing
This system manages the JobActive provider's internal purchasing. It ensures appropriate authorisation, allows management to track expenditure through its reporting system, and maintains a database of preferred suppliers.
In-house Training Activities
The new Training and Development component was created to help JobActive providers track jobseeker progress in internally delivered training courses. Using an internally managed catalogue of training packages offered by the JobActive provider, jobseekers are booked into individually or group delivered training sessions where their course commencement and completion is tracked. An EPF claim is then submitted for every jobseeker who has commenced the course after receiving approval.
Other features
All of the modules are built with alerts, management dashboard, reporting system as well as export functionality to your accounting package. We have a full-time helpdesk in place and can act as system administrator if required. Features coming soon include full support for DES and a Smartphone authorisation system.
Feature missing?
A number of other components and features are in the pipeline, and the applications have been built with complete flexibility to add or change features. JobStream is constantly evolving and chances are if there is a feature missing, our creators are already on it. In building the JobStream software, we have concentrated on the features that deliver the greatest value to our partners, in line with our programming philosophy. Get in touch with us for more information, a demonstration, or subscribe to updates.
Cloud Based
FlowLogic is a cloud-based software and is accessed via a web browser. This means that you can work form anywhere, as long as there is internet connection, be it on desktop, laptop or mobile device.
Integrates with ESS
FlowLogic has a comprehensive tracking system which keeps track of who logged in last, what changes were made and it even saves all previous version of a file or document. 
Built for JobActive
FlowLogic is the most comprehensive cloud-based software for service providers of the National Disability Insurance Scheme. FlowLogic includes many features and lets you work completely paperless.