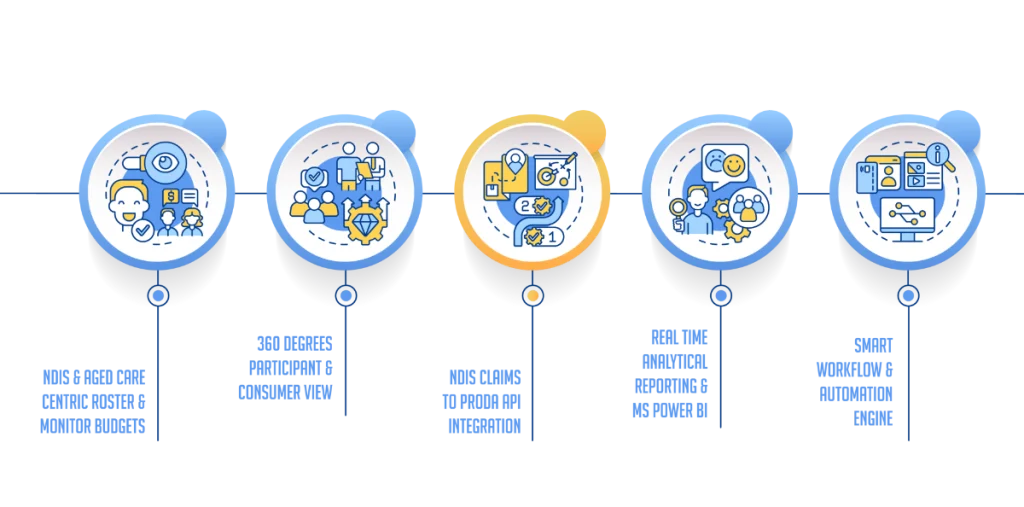 NDIS Software For Disability Service Providers
Our NDIS Software is handcrafted in Australia, built for scalability and monitoring performance, and designed with the input of NDIS and Aged Care Service Providers to make this a one-stop solution to deliver improved care outcomes.
The National Disability Insurance Scheme implores disability service providers to identify NDIS software in Australia that can efficiently manage, track, and report the goals and budgets of staff and clients. General software isn't sufficient for HR, participant and team management, communication, rostering, bulk claims, invoicing and billing. You require a complete NDIS client management system from Datanova. We've collaborated with NDIS service providers to develop a relevant solution for their operations to boost efficiency, improve compliance and deliver a higher standard of care.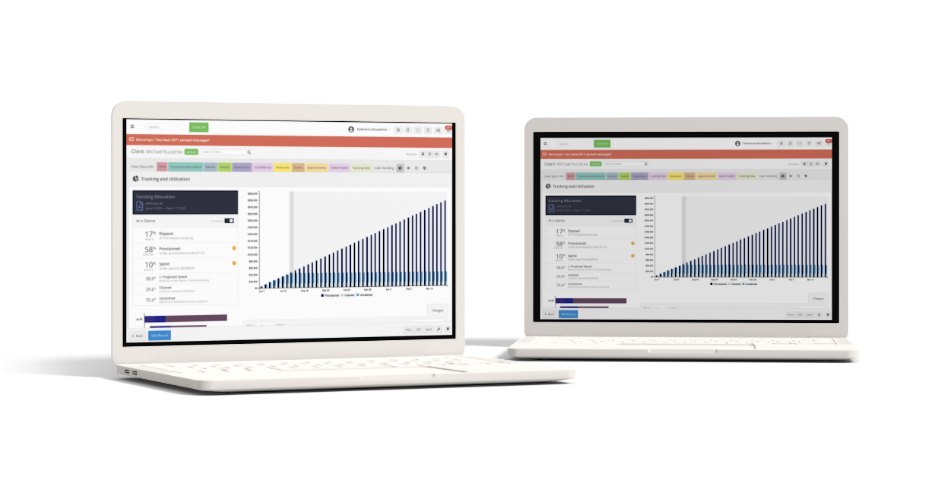 NDIS SOFTWARE HANDCRAFTED FOR NDIS AND AGED CARE PROVIDERS
Disability Service Providers require quality NDIS software to improve cash flow and financial reporting. Plus identifying the best NDIS solution for efficiency while cutting costs. As it turns out, this is challenging but essential to survive in this new climate of delivering Government services. Our cloud-based NDIS and Aged Care software will provide NDIS Service Providers with all those features. FlowPoint, our self-service client portal for participant, consumer and client management, will supplement profitable business relationships to ensure steady revenue generation under the NDIS.
BENEFITS OF FLOWLOGIC OUR DISABILITY SOFTWARE FOR NDIS SERVICES MANAGEMENT
Flowlogic is an end-to-end solution that any leading provider would benefit from.
Our NDIS software package offers a complete suite for your participant management, team collaboration, rostering, NDIA direct claiming, invoicing including billing, and tools like our self-service client portal.
We are proud of our ability to build long-term relationships with our Flowlogic Family Members, which enables us to deliver a strategic program and impressive ongoing support.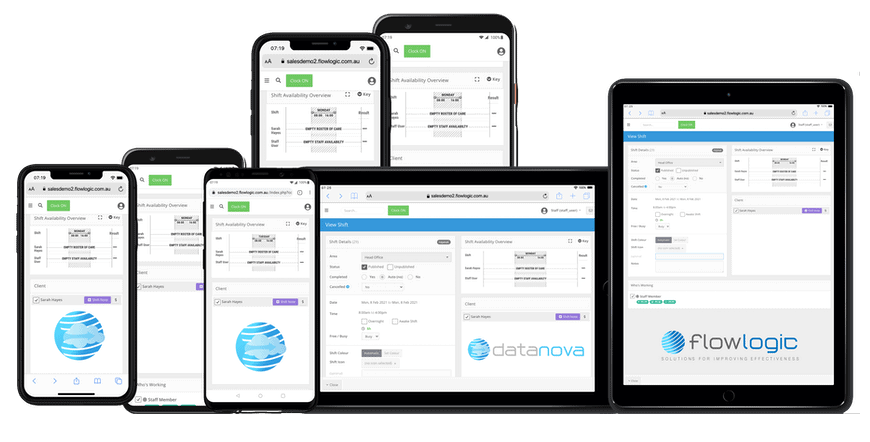 DATANOVA CAN ASSIST WITH NDIS SOFTWARE
To manage your organisation through NDIS effectively, you need an NDIS software program to help manage participants all through their lifecycle without the use of stand-alone apps. The software should allow for fully integrated participant solutions for the various departments of a business.
Our NDIS software will help you with operations like communication and complaints resolution. Providing staff and management with real-time insights, measuring participant goals and outcomes, getting participant feedback, participant survey, and core analytics of participant behaviour to have the ability to make operational changes based on results. Our must-have features to achieve NDIS Software status include service management, roster scheduling, goal tracking, activity management, task automation, reporting and analytics, incident tracking, financials, funding and claims management.
Our insights dashboard highlights a holistic view of participant-related activities and KPI stats like top-performing team members and the current value of open opportunities. Task and activity management tools to see existing calendar events, roster schedules and tasks synchronised across system groups. Flexible enough to allow users to modify their screen and roster layouts, create multiple personalised dashboards and meetings and collaborate with users' teams on the platform with a custom mobile experience from a single integrated online platform.
VERIFIED NDIS SOFTWARE REVIEWS ON GOOGLE
Please read some of the amazing NDIS software reviews we received for Flowlogic and Flowpoint from AUSTRALIAN AND NEW ZEALAND DISABILITY SERVICE PROVIDERS, our clients which we call 'our partners'.
Please click for our Google Reviews
NDIS SOFTWARE PROGRAM IMPLEMENTATION
Implementing NDIS software for Participant Management can be a dangerous undertaking. Implementing NDIS Participant Management software isn't just a job – it's an adventure! To examine best practices, this article is a roundup designed to give you a better chance of successfully implementing an NDIS Participant Relationship Management software solution. In the end, NDIS Participant Relationship Management software is not just about technology; it is about people and processes – supported by technology. While this article is about implementing technology, we will discuss essential prerequisites to finding and installing CRM technology.
DATANOVA ISO/IEC 27001:2013 SECURITY MANAGEMENT CERTIFIED
By claiming the ISO 27001:2013 certification, Datanova is validating its ongoing commitment to security practices and risk management, further reassuring our customers of resilience and data protection. We continue to work on maintaining the highest levels of security and privacy of data; the work never ends!
Download or view the Datanova Cloud Pty Ltd Certification of Registration – ISO 27001 certificate here
Handcrafted NDIS Software Package
Datanova is a leader in providing NDIS-ready software to Disability Service Providers in Australia and New Zealand. You can be confident about our Disability software solutions with over 11 years in the industry. At the 2021 and 2022 Australian Enterprise Awards, Datanova won Best NDIS and Aged Care Software. That is a result of our hard work – developing a program from the user's perspective.
We believe in establishing relationships to gain insight into our client's requirements enabling us to assist and place them on the road to success.
Contact us for your NDIS software requirements.
---
WE LOVE TO HEAR FROM YOU
Book A Complimentary Webinar
Please call a Datanova Digital Business Solution Architect on 1300 552 166 and book your complimentary Webinar or alternatively send an email to Datanova. You can book a webinar straight from our booking form here and we will get back to you shortly.
---
NDIS References:
NDIS The National Disability Insurance Agency.
NDIS Commission works with participants and providers to improve the quality and safety of NDIS services and supports.
Registered NDIS Providers NDIS providers must be registered to deliver some support (e.g. implementing regulated restrictive practices in a behaviour support plan).
NDIS AND AGED CARE SOFTWARE PROGRAM FlowLogic: Simplify Complexity and Make Simplicity Effective.
NDIS & AGED CARE CLIENT PORTAL For Participant and Consumer Engagement.
NDIS Software Webinar Please click the link for a complimentary webinar.